« November 2009 | Main | January 2010 »
December 30, 2009
Loving Suburbs
Cities can be very crowded and the countryside usually is a bit lonely and lacking cultural services. The ostensible arbiters of taste hate the suburbs.  They critically acclaim crappy movies like "American Beauty" or "Revolutionary Row" that fit into cognoscenti stereotypes of life in the suburbs.   Maybe these wise guys won't understand, but suburbanites are the happier with their lives than those people who live in small towns or big cities, according to Pew Research.
You can see some of the variety of options in the pictures.  It goes from the very crowded city of Sao Paulo, Brazil to a leafy and low density City of Milwaukee Street.  Frankfurt, Germany has become a very green city, even though it is in the center of a dense urban zone.  Cities can also be the crowded density of India or the grimy but vital Chicago street. And there are still places in the U.S. were almost nobody lives.  You can see on the picture from my sister's back yard in the Milwaukee suburb of Oak Creek.
I work in the city, live in the suburbs and spend a lot of time on my farms in rural areas.   Each has its attraction and I would not want to have to choose among them and I don't have to, so in many ways it is a false choice.  Let me address it anyway.
The key advantage of the city is that you can walk to the places you need to go, although this advantage is lost on many urban dwellers, since they don't walk much anyway.  Suburbs are a little too much car culture for me.  Of course, I am a bit spoiled in Washington, which is one of the world's most pleasant and walkable cities. Washington really isn't a city.  At least around the Capitol, it is more like a nice park with magnificent monuments and museums.  Who wouldn't like that?   In many cities these days you cannot really walk around much.
Diversity used to be an advantage of cities, but not anymore.  Today that is an advantage of the near-in in suburbs.  Fairfax County, where I live, is more diverse than Washington DC.   My homeowners' association has people from all over the world interacting and getting along, which is true diversity.  People in cities tend to have more defined and sometimes antagonistic group identities.   Group identify is not diversity; it is just a kind of standoff.  The suburbs are now doing a better job of breaking down archaic group-think.  I suppose that sort of homogenization is one of the things that offends some people, but I prefer to interact with people, not "representatives."   Rural areas tend to be less diverse, in my experience, because fewer people are moving in.
The advantage of the rural areas is space and I love to hike in the big natural areas and I really love MY forests, but absent those things, rural life holds few attractions for me.  The countryside is a place to get away to … and then get away from.  It is not a place I would like to live permanently.  We lived in Londonderry in New Hampshire, which was an interesting exurb.  It has the demographic characteristics of a suburb, but the density of a rural area along with a little bit of a small town. We lived in a kind of cluster development, which I found very pleasant.  I like to see my neighbors, but be able to leave them behind when I want to be alone.  This may be the blueprint for the community of the future.  You can have fairly dense development amid green fields connected to urban amenities.
The old suburbs, where everybody has a rambler or ranch style house set on a half acre lot are soooo 1950s. The gritty urban environment is too unpleasant and the countryside is too vast.  Put them together, and you have something nice.  I guess that is why I am happy where I am now in Fairfax. Of course, I will be keeping my eyes open for something better.   That is the American way.
Speaking of that, Pew has an article about the middle class (available here) and I read the Economist special report on the growing global middle class (here).   The middle class is also much maligned by the cool ones.  They used to call us bourgeois.   But when you think about it, most of the good values come from the middle class. The poor are too screwed and screwed up to think about the better things in life and the rich are too spoiled and effete to care.
A good series of articles about suburbs is at this link.
This middle class guy in the suburbs is feeling okay. A lot depends on not on the location or the life station but on the person.   No matter what how much you make or where you go, you have to live with yourself.  If you don't like the company, you are out of luck.
Collecting Stuff
I don't acquire as much collectible stuff as some people. I was thinking about how I have almost nothing left from my posts in Brazil, Norway or Poland. Then I started to think that I don't have much from anyplace else in general. 
It is not that I just don't keep things.I keep things that I regularly use.  Chrissy gives me a hard time that I rarely buy new clothes.  I really see the need to replace something until it wears out. Pictures of me from years ago show this.Once when traveling to Germany, the border guard questioned my passport photo.  Since I got that passport, I had grown older, grown a beard and cut my hair much shorter.He looked up again.  "Okay, same eyes and same necktie," he laughed.  
I don't think I have anything left over from Brazil.That was a long time and several moves ago.  We have a few things from Norway.  We have a cheese cutter, a print of the building where the Norwegian Constitution was signed and a wooden bowl made by my colleague Leif Somerseth, who made them from burls on some birch trees at his mountain cabin. (The wooden bowl is pictured above. I tossed in my two pieces of the Berlin Wall and that is where they have resided ever since.)  We were in Poland twice can more recently, so we have a little more from there.  I have a framed antique map of Poland, a reproduction sword, some prints and some wood carvings. 
But the most useful thing we have is a set of Boleslawiec ceramics.We should have bought more of it.They were practically giving this stuff away when we first got to Poland.  You could get a whole set for around $10.  Now a single plate costs that much or more.  Unfortunately, it is a wasting resource, i.e. pieces are breaking and one day they will all be gone.  I don't think we should just save or preserve them.  It was made to be used and use it we do.In many ways, the experience with the thing is more important than the thing itself.
I never understood those guys who collect things unopened in their original packaging.   IMO, the value comes from its use and using it adds the personal value.The things I still have from Poland or Norway are not things I just bought.They are things people gave to me or things that came from some experience.Their value doesn't come from the thing itself, but from associations and experience surrounding it. Things you keep should have a back story, one of your own, not just a vicarious one or some ersatz tale created by a salesman or marketing department.
You probably don't need too much stuff in general and keeping in mind the real back story helps slow the mindless accumulation.  
December 28, 2009
New Old Things in Washington
My big boss Jeremy is retiring.  I will miss him.  The generation of great officers who were running the show when I came into the FS is passing.   Now I am among the old guys. 
We went out for the last breakfast at a downtown hotel and I walked back to work after.  Although I walked through an area near the State Department, I don't usually go this way and I found some interesting things for pictures.
Above is the statue of Jose de San Martin the liberator of Argentina.  Below is  John Rawlins, a Civil War general and friend of US Grant.
Below is the Octagon, the headquarters of the American Architectural Society.
December 26, 2009
What We Did in 2009
Espen at George Mason

Espen went off to school this year.It is sad for Chrissy and me not to have him around all the time, although we are happy that he is not far away at George Mason University.    He comes home a lot, but we sometimes don't see much of him anyway, since we are generally awake during the day while he is sort of nocturnal.  
Experiments in sleeping 

He is trying a sleep experiment over the Christmas break.  His idea is to go to bed a couple hours later and sleep later every day until he moved completely around the clock and can wake up fully rested early in the morning in time to go back to school. It should work.It is much easier to go to bed later than to wake up earlier and I read that this moving around the clock is one way they use to cure insomnia. He has fallen off the discipline recently, however, since he has been going out with his friends.

Studying computers & interning at Lockheed
Espen is studying computer engineering.  He has to take a lot of hard classes, but there is strong job growth for those who make it through.  He had a paid internship at Lockheed-Martin working on their computer systems last summer and will probably get the job back next year.    That will probably be as important to his future prospects as what he learns in school.  They also got him a security clearance, which is very valuable for jobs around here with government and government contractors.
Alex starts at JMU via NOVA
Alex will be going to James Madison University in January and starting as a junior.His is a real turn-around story.He was an unenthusiastic student and wasn't ready for college when he graduated HS.It was hard for Chrissy and me not to push him in, but I remembered my own early college experience.  I wasn't emotionally ready to go and I didn't study and managed to achieve a 1.67 GPA in my freshman year. Alex found a decent job at Home Depot, which both helped him with his basic discipline and made him see the value of formal education.He started to go to Northern Virginia Community College and eased into higher education part time, soon studying hard and getting good grades.  
Valuable experience at Home Depot
It might have been better for him to wait until fall semester to start at JMU.He has been doing very well at Home Depot, working hard and getting some of the respect and opportunity that comes from doing a good job. I think it would be good for learn some more useful skills.He has been scheduling contractors and working with appliances and fixtures.  This experience is worth a lot in the real world, but I understand that he is impatient to get on with the next steps in his life.I will miss him.  We have been attending Smithsonian lectures together.Unfortunately, I think that has made him even more eager to get to JMU.He is usually by far the youngest person in the audience and he feels life is passing too fast.
Following in my historical footsteps
Alex likes history and that is what he probably will study at JMU. Studying history is not directly applicable to any particular career but it is a great general background for life. My history MA has been as useful as my MBA, although it doesn't tend to impress hiring managers as much. I think there is a big difference between rigorously studying history and just coasting along.  Alex really tries to understand.
Mariza working at Travelers'
Mariza is still working at Travelers' Insurance in Baltimore.  She is an insurance adjuster for environmental claim, which means asbestos, mold, oil spills & sewage – all the fun stuff.Most the clients are firms and it is usually third party liability. A lot of these things are subject to interpretation.   Of course most of the claims are legitimate, but she also has to deal with hypochondriacs who probably really believe that they were made sick by various things and predatory lawyers who prey on insurance companies, firms and putative victims alike.
New apartment not far away
She moved to a new apartment last summer, not far from her old one.It is a cheaper and she doesn't have to share with roommates.Mariza was the de-facto property manager in his former apartment.  It was hard for her to get him sometimes lackadaisical and deadbeat roommates to cough up the cash for rent. The landlord did the old "joint and several" lease, whereby every individual was responsible for the whole rent every month.Mariza's roommates had a higher tolerance for risking eviction and/or bad credit and that is how she got stuck trying to herd the cats and get them to pay up.
Baltimore has some nice neighborhoods
Baltimore is a very nice city, if a bit uneven in its attractiveness.   There are some very distinctive sections that are almost like towns within the city.Mariza used to live on Bolton Hill, which was an area of nice old building, some being renovated. She lives in Mount Vernon now, dominated by an interesting monument to George Washington.It also has some of the spillover of students from Johns Hopkins University.Nearby, however, are some very gritty and dangerous looking places. Espen and I drove through one area after dropping Mariza off.We noticed some really little kids just hanging around and it reminded Espen of a Dave Chappelle skit you can watch it at this link if you are not offended by colorful language.

Chrissy doing HR at Department of Labor
Chrissy is doing well at the Department of Labor.She got an award this year and will probably get her promotion next year.   The Civil Service is not like the Foreign Service.Our ranks follow us personally not matter what job we do.The FS system has its disadvantages, but the rank-in-person allows us to take a wide variety of jobs.The all important arbiter in the GS system is the position description.Chrissy spends a lot of her time analyzing and assessing job descriptions.It is, unfortunately, almost impossible to reward well-performing individuals.Managers have to rewrite their job descriptions or move them to new positions. They are not supposed to do that just to reward employees and that is the problem Chrissy often faces.She has to keep them to the rules. 
Mine safety is serious business
Her section deals w
ith mines and mine safety and Chrissy gets to travel around to do job fairs and recruitment.    Given the nature of mining, these fairs tend not to be in the large and sophisticated metro areas.  They have a lot to do in West Virginia and rural Pennsylvania, for example.  The mine inspector program has a diversity problem that upsets some of the leadership.   Given the location of most mines and nature of the industry, people with significant mining experience tend to be white and male.   Also given the life-and-death nature of mine safety, you cannot fake or fudge this experience as you can in many other jobs.    
On top of all that, inspecting mines is a physically difficult and demanding task.  All this means that "achieving diversity" is a daunting task, which is why they do job fairs in places like El Paso and Puerto Rico.
Federal hiring process is confusing 
It is hard to get jobs in the Federal government, hard because of the arcane and Byzantine system they use for most recruitment.They system is designed to be perfectly fair and perfectly transparent, but because it tries to do these thing perfectly in theory it usually means that it is unfair and opaque in practice. It is a frustrating challenge for Chrissy a lot of the time.  But that is a story that she can tell, not me.

Public diplomacy moves to social media
My job had its ups and downs this year, but nothing spectacular.I wrote about some of the public diplomacy we helped do for President Obama's appearances in Cairo and Ghana. IIP has really become a new media center and my colleagues are developing programs very nicely.I am getting a little concerned, in fact, that the new media is getting a little ahead of our capacity to use it effectively in public diplomacy.In the last couple of weeks, I have had the chance to work with FSI to develop training in social media for decision-makers.We are hoping to make this a policy level course, not just a how-to but a why-do.It is too easy to get beguiled by what we think we can do w/o asking what we are trying to accomplish and what tools are most appropriate.I have appropriated the poetic phrase that we must not let our new media reach exceed our public diplomacy grasp.
Our reach exceeds our grasp
I worry that the ubiquity and easiness of new media will convince us Washington that we can reach overseas and influence far-away audiences with a one-size-fits-all strategy.  We really need the on-the-ground presence and expertise.There is no such thing as a world brand or a strategy that works all over the place.  The strength of our FS is that we can be decentralized and near the "customers," responding to local cultures and nuances.But this kind of work looks plodding compared to the excitement of the new media.It is tempting to go direct.  We tried to bypass our posts in the 1990s.  In many ways, the dot.com debacle was like the new media craze.We unilaterally dismantled a lot of our networks in the late 1990s and paid the price later.I hope we don't do that again and I will do my best to prevent it.
Back overseas for me … in 2011
I suppose I do have a dog in that fight.I agreed to go back overseas, back to Brazil.  I will be public affairs officer there with lots of up-close, hands-on opportunities.  I won't be going until summer of 2011, so there is a lot of time to prepare.  I haven't keep up much with Brazil, so I have some catching up to do but I am looking forward to it.  My favorite issues relate to economics, environment & Energy and those are the crucial ones in Brazil. I will also be glad to have some line duties again.The Wall Street Journal has a Portuguese version.I have been reading it for the past couple days and can still do it reasonably well.I don't think it will be too hard to take it up again.
All things considered, not bad
It has been a good year for us, all things considered.Both boys took the next big steps in their lives, but I didn't see any major turning points and we end this year as we might have expected at the start.Of course, you often don't see the big changes as they happen.  They are clearly evident only later and when you look back you cannot believe you didn't know at the time.  Maybe there is something like that.We go into the new year grateful for the blessing of the present and optimistic about the future.
December 25, 2009
Original Sin & the Environment
I was devastated when I first learned about original sin. No matter how good you are or what you do, you can't overcome the sin carried by all humans. Fortunately, there is a way to redemption. Many in today's world have rejected this religious concept and some have rejected religion altogether. At least they think so.
If you believe in nothing, you fall for anything
But humans are hardwired to believe in something beyond themselves. The non-religious or the un-religious often develop some very rigorous dogmas of their own. Sometimes they are deadly godless quasi-religions such as Nazism or communism. More often in our own times they are variations of difficult to define new age beliefs. Some people are attracted to these sorts of things because they can fill in whatever they want while still enjoying the safety net of spirituality.
Excessive purity is a perversion
IMO, one of the most pernicious perversions of religion was/is the type of exclusive, bigoted purity (BTW – I avoid using the term puritan because that implies a particular time, place and people.) that declares the very nature of humanity as evil and holds out almost no chance of redemption. We have had outbreaks of this throughout history and it is a deadly disease. I always thought that if God was almighty he could take care of himself without the faithful on earth having to kill or torture people in his name and a just God surely doesn't reward those that do. But many of the purists evidently have less confidence in the Almighty than I do and feel he needs their humble human violent interventions. Good people have to oppose this perversion of faith w/o necessarily attacking the God that these misguided people purport to represent.
There is no possibility of redemption in most secular variations of original sin
Unfortunately, secular quasi-religions can also be intolerant, deadly and human-hating and they can and do produce a secular version of original sin. In the Marxist version, your "sin" relates to the class and Marxist theology allowed whole classes of people to be consigned to Gulags, no matter their individual behaviors or attributes. The Nazis did this based on races, as they defined them.
Your carbon footprint = your sin?
The concept of original sin is becoming prevalent in some of the deeper green environmental circles and is manifest most clearly in the concept of the "carbon footprint." The whole idea of global warming maps closely with original sin. According to the more extreme interpretations, all humans are guilty of greenhouse gas. In a modern version of the medieval mortification of the flesh, you can reduce your "sin" but there is nothing you can do to avoid it. The best thing you could have done for mother earth was never to have been born and some people have advocated holding you accountable for your own carbon footprint and those of your descendants. We could paraphrase Exodus 20:5 by saying that it visits the iniquity of the fathers upon the children unto the third and forth generations, but this modern religion goes on forever. And it is even expanding to include our pets. Yes, owning a big dog may be worse than driving an SUV. Ironically, I think the idea that the human species should voluntarily vacate the planet sits better with some people than the idea that they would have to get rid of their dogs or cats.
Similar to what I wrote about religion a few paragraphs above, good people have to oppose this perversion of environmentalism w/o rejecting the concept that these misguided miscreants purport to represent.
Humans are part of nature and what we do becomes part of nature
Human beings are not some kind of blight on nature that should be extirpated. Humans are an integral part of nature as it exists today. As part of nature, we have the responsibility to use wisely the intelligence given us by nature and natures God. This also means using wisely those natural resources available on this earth. We must firmly and forcefully reject the idea that humans should deny their own right to continued existence on the earth, understanding that having humans on earth means that the earth will be altered by us. This is what every plant and animal does.
I always admit that I don't have any original ideas and I don't have any new ideas. I found something I wrote six years ago while sitting in forest shelter to avoid the rain. It has the advantage of being more spontaneous and I really cannot improve on it so I copied it below with a few minor edits.
I have been wandering forests for my entire adult life, most of my adolescence and some of my childhood. I have learned to identify the trees, soil types, & topography. I love forests, but my thinking about them has changed. I used to like to wander lonely as a cloud. I didn't want to see the signs of human kind in my forests. Maybe that was because there was little chance I would get my wish.
Nature without people is just plain lonely
I have changed my mind. I don't really like wilderness in the sense of land without man. There was plenty of that in the countless eons before man and there will be plenty more after we are gone. Will "time" stop with nobody left to count the minutes, hours, days and years? It might sound arrogant to say that man is the measure of nature, but it is even more arrogant and downright ignorant for any human to say that he can understand nature in any other way. Raw nature is nasty, cold and incompressible. No human can respect nature in its natural state and it really doesn't matter if we do. There is nothing the human race can do to add or detract from nature. If we managed what we arrogantly fear (but couldn't really do) – if we destroyed the entire surface of the Earth, would that make any difference to a nature that encompasses an endless universe of worlds without end with billions of years at its disposal? Is there anything any of us could do that will make a difference a billion years hence?
What can we do to harm nature? In the long run – nothing
It would make a difference to humans in the here and now. We can only add or detract from the human interpretation of nature. Now I am happy to see signs of "good" human intervention and sometimes even the results of a bad intervention healed. More than a century ago, a great man-made catastrophe transformed Northern Wisconsin. The great Peshtigo fire burned everything from the middle of the state to Lake Michigan. You can still see the signs in the type of vegetation and soils. We now call it old growth, but it results directly from inadvertent "bad" human intervention. The people living now benefit from this horrible tragedy of which most of them are unaware. Sitting in alone in a forest shelter in a downpour puts things in perspective.
December 24, 2009
Running in Circles
I don't think that life runs in circles, but we kind of follow trials, maybe more like a bloodhound following scents.   The scents can be stronger or weaker.  Sometimes they are washed away completely, but more often it only seems that way.   Naturally the course of your career is often determined by your core competencies and talents.   You tend to circle around the places where you have expertise.   That is why it is so important to start along a path with lots of options, since you may be travelling that way a long time.
The natural circleForestry was probably my biggest circle. I have always loved nature and studied forestry in college, but abandoned it as impractical.  I believed that was the end of it, but I didn't know myself as well as I thought.   While my conscious mind was not paying attention, under the surface I was always paying attention to the opportunities and – in the Chicago term – when I saw my chances, I took them.   I became a forest owner.   People wondered not only why I wanted to do that, but also how I knew what to do.  I just did.  I had learned to identify forest types and assess forest land, not in the professional sense but enough to know what I was buying because that program had been running in background for thirty years.
Bookending Brazil Now I may well be bookending my career with Brazil.   Brazil was my first post and Portuguese was the first language the FS taught me.  That was a long time ago, a quarter century ago.  Besides my sojourn in Iraq, I spent the rest of my career in Europe.  But I wasn't so completely out of it.  In 2000, I went to the EU Summit in Lisbon.  Their Portuguese is very different from the Brazilian variety and for a couple days I couldn't say anything.  But then it came back, mostly.  A couple years ago, FSI offered an online Portuguese reading course.   I had no reason to take it, but I did.
I went down to Sao Paulo and the State of Parana in May of this year.   Brazil surprised me.  I guess I should have known that it would change in twenty-five years, but it had changed a lot.   The country of the future was finally catching up with its vast potential.  So when they advertised for the PAO in Brazil, I applied for the job.   Yesterday I got it.
Foreign language is hard and you tend to think you sound better than you doIt is well in the future.  The job doesn't start until summer of 2011.   I will finish the job here in IIP next summer, so I will have to find something for a couple months before I start the area training and language again.   I want to get my Portuguese as nearly perfect as I can and that takes effort and training.   I was easily fluent in the language when I lived in Porto Alegre, but I know that at my best I sounded like the equivalent of Sergeant Schultz from Hogan's Heroes.   I want to move up to the Louis Jordan or Ricardo Montalban level.  
FSI has language proficiency levels.  IMO – the 1 level is like those Japanse fighter pilots on old movies,  You can say just enough to make a few exclamations.  When you approach the 2 level, you can ask where directions to the bathroom or the train station, but you might not understand the answer well enough to find it.  The 3 is Sargeant Shultz.  People understand you, but it is often comical. You have to get at least 4 to approach Louis Jordan or Ricardo Montalban, but they are probably closer to 5.
Once more around the track
So it looks like I will be doing another lap around another circle.  Brazil is a very good post.  The PAO seemed like a real big deal when I was looking at it from the junior officer perspective.   Now, maybe not so much, but it will be a good and rewarding work.  It has a big budget and a lot to do.  This time I will be able to see the country and appreciate it more.  Last time we were so poor that we couldn't afford to go anywhere unless the government sent us.  We were paying off student loans, car loans and then the expenses of the kid.  Mariza was born in Brazil.   We should be on easy street this time. The verse from TS Eliot seems appropriate.
We shall not cease from exploration
And the end of all our exploring
Will be to arrive where we started
And know the place for the first time.
December 22, 2009
Pedestrians = Rodney Dangerfield
Pedestrians are like Rodney Dangerfield.We get no respect.They did a good job plowing the streets for the cars, which means they piled the snow up on the corners, where anybody on foot has to climb a small mountain to get to the road.The problem is often not climbing the snowy mountain, but sliding down the other side and controlling your descent w/o falling on your rear or sliding into traffic.
I have written before about the obvious way the authorities prioritize auto traffic while ostentatiously praising pedestrians. Below – if you look carefully, you see that there is a car in there. Good luck on driving out of that.
This is even the case near the Metro.Presumably some people might be on foot on the roads leading to Metro entrances.
But I have to admit that Washington DC does a relatively better job than Virginia. As you can see from the picture below, they have made a path. Here we have a different problem.  Pedestrians tend to walk in front of cars even when the cars have a green light.
I think we have a general disrespect for the law because the law has a general disspect for us.  Many drivers in the Washington region don't seem to understand crosswalks.  It is not just because we have a car culture.  California is more a car culture than we are but you have to credit drivers in California.  They pay attention to cross walks. Many places the "walk/don't walk" signals require you to push a button and wait a long time.  In other places the transitions are too fast.  I know of one place where the green turn signal stays on all the time, confusing both drivers and pedestrians.
Above – I just had to include this. It was actually fairly warm in the sun and the guy was snoring loudly.  If you look nearby at the bottles, you notice that this guy probably has plenty of antifreeze in his bloodstream anyway.  Below is the three-way snowball fight standoff. Something went wrong with my camera settings, which is why we have such "artistry."
December 21, 2009
Snow in Washington – Pretty Pictures
Above is the U.S. Capitol from the back of the American Indian Museum.  Below is the Lincoln Memorial on the other end of the Mall.
The Federal government (although the Senate was at work late into the night) was closed because of the snow, but it really wasn't hard to get down to Washington.  I just caught the Metro.  I wanted to see Washington in the snow and quiet.  There was a lot of snow, but it wasn't quiet.  Lots of people seemed to have the same idea.  I took a long walk from the White House to the Capitol.  Some pictures are included.
Above is the Washington Monument.  Below is the frozen reflecting pool at the World War II Memorial.
Below is the Smithsonian Mall.
Below is the White House from Pennsylvania Avenue.
December 20, 2009
Cleaning up After the Big Snow
This was a record-breaking snow for December. They already announced that the Federal Government will be closed tomorrow.  Chrissy and I were able to drive around with the Honda and do some Christmas shopping.  The main roads were clear but the side streets were still sometimes bad.
Above is the narrow path of the plow on our street.  It is actually better that way because the plows don't make such an impassible bank across the driveways. Below is the front of our complex.
It is useful to have big boys.  Below is Espen clearing the driveway.  He also did the same for our neighbor.  Good boy.
Below is the back of our house.  The red oak trees are getting big.
December 19, 2009
Winter Storms Come Early
It has been a cool year so far and it looks like it might be a snowy winter.I don't know if this will be any kind of record, but it is the earliest big snow I remember.
It is Saturday; otherwise government would be shut down and the whole city thrown into panic.  Washington doesn't handle snow well. These are a few pictures from around the house.The blobs of light in the pictures are snowflakes reflecting the camera flash. I took some w/o the flash, but I kind of liked the effect with it.

Above shows our Honda covering in snow.  We don't plan to drive anywhere. The snow will stop tomorrow and the sun will come out again.  Snow doesn't last long in Virginia. I figure that the Lord put the snow there and he will remove it before I need the car again.
December 18, 2009
Freedom is Just Another Word for Nothing Much to Do
It is like the man who has been locked up for a long time.   Suddenly the door swings open and after years of dreaming about it, he is free.   But he really doesn't know where to go or what to do.  The social media has done that to us in public affairs.   We always said that we would be on easy street if we could just reach people, if we could just overcome the filters of editors and government controls.  To a great extent we now can, but there is less than we had imagined.
A poor workman blames his tools
I am disappointed in the social media in spite or – or maybe because of – our success.   We (State, IIP etc) have succeeded in reaching out directly to millions of people through the new media but the results have been astonishingly banal.   A poor workman blames his tools.   The fault lies not in the social media tools we are using but in our own lack of imagination in using them, coupled with unrealistic expectations.   Social media is what it is.  We can use it well or poorly, but we cannot change its fundamental nature.   So what are some of the things we might try to do differently?  Or maybe, what are the misconceptions that are keeping us from doing as well as we could?   To use the 1990s B-school jargon, how can we shift our paradigms?
Our reach exceeds our grasp
Our minds still inhabit the old world of mass one-way media.   Despite all the protestations to the contrary, we still think in terms of television, where one announcer reaches millions of people and it makes a difference.   We CAN still reach millions with new media, but so can lots of other people.  The power of television was not that it could reach millions.  Its power centered on its capacity to dominate the attention of millions of people.   
The wealth of options creates a poverty of attention. That means that "reach" is not what it used to be.Those who just want to reach more people don't understand the realities of social media. Reaching a million people is easy. Grasping them and holding their attention, that is hard.      
It is like yelling "hey" at somebody.   He looks in your direction.   If you say nothing or just say "hey" again, all you will end up doing is annoying him.   Social media is very good at saying "hey" (we tend to call it building awareness) but the follow up is often not there.
You find your keys in the last place you look, because after that you stop looking
Reaching audiences and "Building awareness" w/o follow-up is usually worse than nothing because it allows you to stop at that.   There is a good chance you can fool people with the good numbers.  It sounds very impressive to say that your message reached a million people and you may be encouraged to think that your work is done.   All you need to is repeat this success tomorrow and the next day and you are on easy street. The most devious way to hide something from someone is to make him think he found it already. Let him go happily and ignorantly on his way.   We fool ourselves when we settle for reach. 
Less is more?
Of course the opposite end of this bull crap continuum is the contention that you didn't reach more than a couple people, but that they were really important.   This may be true, but it almost never is.   You can test it by asking for names.   If your expensive program reached only a dozen people, you better know who they are and be able to give a creditable reason why they are so important.   
I will admit it.  I have fallen back on both these subterfuges on occasion; of course well in the past.  Sometimes I have even done it on purpose.   It is possible that your boss just doesn't understand what you are trying to do, so you do something that you know will generate a big crowd to make him happy so that he will be happy and you can get on with your important work.   Other times, you just mess up. It is easier to claim that you got the small number of key players than these were the only guys you could round up down at the train station.
Now that I am sometimes in a position to be the boss on these sorts of things, I know enough to ask the proper questions.  Sometimes I am polite enough not to, although I usually follow up with an "amusing anecdote" so they know not to try it again.  
Getting it right more important than just getting it
My disappointment with the social media has just made me more enthusiastic about getting it right. We really will need to change some of the ways we do business.   We really do have to think about a new "community manager" role for online communities.  This person has to be like a diplomat in many ways.  That means that he/she need more than technological skills or the ability to "reach out".  He/she also need some substantive knowledge.   If you are going to participate in a science community, you better know something about science.
We also have to get more into the human-interface.  Real social media requires real social engagement.   We cannot be social media broadcasters and we have to resist attempts to expand our social media community reach beyond what we can reasonably handle.
Many Distinct Niches Better than a Big Blob
Being overly broad is also not usually desirable or successful in building a community.   You are better off working with many niche communities made up by people really interested and committed to a topic than trying to reach a big general audience.   A niche audience allows each individual to get what he/she is looking for.   As the community develops, members begin to feel a sense of belonging.  They value the community and protect it.  A community like this will usually be self policing, since individual members will have the expertise and perceive the interest to discipline bad actors and correct bad information.
Knowing your audience is important but identifying topics rather than audiences is the key to success.   Naturally topics have to be interesting to somebody but audiences will form around topics.   Identifying audiences and then trying to find topics to attract them not only nearly impossible to do, it is also borderline silly.   It means that you abdicate leadership and allow your priorities to be set by what you think you can easily sell.   Presumably we have some of our own priorities and some of them must be advocated whether they are popular or not.
Wisdom of crowds
I still haven't figured this out and I am pretty sure I never will.  But I do understand some parts of the puzzle and in true social media fashion I will rely on the hive intelligence.  I think most of what we need to know is already known or can be found by somebody in the State Department.   We just have to find each other and go from a bunch of learning individuals to a learning organization.   Social media can help figure out social media.   It is fitting.
The gate is open wide and we can see the far horizons but none of us knows where to go.  However, all together we might pick the right direction.
December 16, 2009
Things (don't) Fall Apart
People are more likely to pay attention to threats of loss than they are to possible gains. That is why the news is full of stories of loss and destruction, now and even worse predicted in the future. Of course, it is also just the nature of news. Good things often evolve over a long time. Bad things are usually more dramatic. But even during our "hard times" life is good compared to other times and places.
Nostalgia is not what it used to beNostalgia is a great thing. Our minds get clouded by time and eventually even bad things start to look okay. Survivor bias is also at work. The things from the "good old days" that manage to survive today were often of better value in the first place.
We remember that everything was cheap in the old days, but we forget that we made a lot less money. One of the ways to equalize this is to look at how long it takes to earn the money to buy things you want. I read an article that made that comparison.
Most things get cheaper with better quality
For example, in 1958 a color TV cost 136.34 hours of work at the average wage. Today a similar TV costs only 19.08 hours. Of course, today's television is a lot better in terms of picture and reliability. Back in 1958 nobody could have afforded to buy the kind of quality you can get now by working a little more than 19 hours.
A person living in middle class prosperity back in 1958 would be considered poor today in terms of the quality and quantity of what he could buy.
Malaria cases way down
Another piece of good news I found on the inside pages of the WSJ was that fears of global warming and disease spreading notwithstanding, malaria is declining, according to the World Health Organization.  It even looks like H1H1 is not as bad as we thought.
Predictions of dooms past seem funny today, but they scared people back in the day
I am old enough to have survived predicted ends of the world several times. We survived the nuclear Armageddon in the 1960s. In the 1970s we overcame global cooling. The population bomb didn't destroy us in the 1980s and we didn't notice the near complete depletion of resources that the experts told us was coming. While we didn't quite enjoy the end of history and the collapse of communism as much as we thought in the 1990s, the predicted vast refugee crisis didn't materialize, Y2K didn't destroy our information society and Internet in general didn't shut down for lack of connectivity. Oh yeah, acid rain didn't kill all our forests and lakes. Terrorism is indeed a problem in this decade, but we seem to have adapted reasonably well and compared to the apocalyptic predictions, we feel lucky to remain alive, healthy and so well-off.
When our kids look back fifty years from now, how funny will some of the things we worry about today seem to them? I know – ours is the worst hard time. Yeah, yeah, that's what we said back then too. They may talk about the good old days and how things were so much better for us. But like us, they will know that they have it better than their parents.
BTW – one of my favorite poems is the Second Coming by William Butler Yeats – written in 1919, when things really were a lot worse.
THE SECOND COMING    Turning and turning in the widening gyre
The falcon cannot hear the falconer;
Things fall apart; the centre cannot hold;
Mere anarchy is loosed upon the world,
The blood-dimmed tide is loosed, and everywhere
The ceremony of innocence is drowned;
The best lack all conviction, while the worst
Are full of passionate intensity.
Surely some revelation is at hand;
Surely the Second Coming is at hand.
The Second Coming! Hardly are those words out
When a vast image out of Spiritus Mundi
Troubles my sight: a waste of desert sand;
A shape with lion body and the head of a man,
A gaze blank and pitiless as the sun,
Is moving its slow thighs, while all about it
Wind shadows of the indignant desert birds.
The darkness drops again but now I know
That twenty centuries of stony sleep
Were vexed to nightmare by a rocking cradle,
And what rough beast, its hour come round at last,
Slouches towards Bethlehem to be born?
December 15, 2009
Oh Christmas Tree
Chrissy got the idea to make a kind of glittering Christmas tree with mirrors and glitter to reflect the light.  She made the glittery snowflakes herself.
The tree is a Frasier fir.  Alex picked it out at Home Depot.  I brought a tree up from the farm when we first got it, but loblolly pines don't make good Christmas trees.  They drop the needles very fast and they are not very bushy.  They grow fast, which makes them good timber trees, but that means that they have long growth branches.  Christmas trees are usually trimmed to make them fuller.  It tried that, but it didn't work with my trees.  It is easier just to go to Home Depot.

December 13, 2009
Leaving Things Undone Accomplishes More
Up until this year the landscapers around our housing complex have been busy with their noisy leaf blowers and stinky mowers, this year not so much.  In fact, they more or less left the strip in back of our house alone and let the leaves pile up.  This is very good and you can see the evidence of that in the pictures.  
We got a lot of rain this season and the ground is saturated. This has always meant erosion the water runs rapidly off the roofs of the houses and down the narrow channel in back. The shadows of the houses and trees make it hard to grow grass and grass has trouble standing up to the fast water flow. (In the pictures you see the lilyturf and ivy I planted a couple years ago to at least hold the ground in back of our house. That does well in this environment, but in back of the other houses there is mostly just dirt.)  W/o the leaves on the ground, the water running off is full of silt, but the leaves both protect the ground and absorb some of the water.
Storm water is a big and growing problem in Fairfax County because of all the hard surfaces. It erodes the stream beds and messes up the Chesapeake Bay.  Sometimes our excessive commitment to tidiness exacerbates the problem.  Most homeowners are unenthusiastic about water standing near their houses and they quickly sweep up leaves.  This "virtue" is hard on the water systems.
See the utility box in the picture below. Before I put in that ground cover, there was a big rut almost a foot deep running along both sides of that thing. The plants have raised the ground level, by trapping silt. They will completely cover the ground by the end of next year.  If the whole back was covered in plants most storm water would soak in and very little would run off at all.
The lesson I take is that you are often better off letting things alone.   There have been lots of proposals to try to make the grass grow (impossible in the shade), put in drains (expensive, bad for the environment because it accelerates runoff), put in rocks (ditto) or mulch the whole thing (not bad, but mulch tends to wash away a lot easier than leaves), but the best thing to do may be almost nothing.
The best thing to do would be to put in some kind of ground cover, actually make the whole thing into a long rain garden.  (I wrote about this kind of thing before) In time, it would establish a strong root system that would both trap sediment and help water soak in. It would be a little work at first but then very low maintenance.  It took me a day to put in that in the pictures ground cover and I got it all free just by taking what Chrissy thinned out from the front of the house, but I can't and wouldn't be allowed to put it in back of the other sixteen houses along this way.So the next best thing to do is nothing, or maybe just resist any attempts to "fix" the problem at home owner association meetings, unless we are talking about rain gardens.  Maybe I should develop a proposal for a rain garden. I volunteered to help start a landscape committee a couple months ago, but still have no interest or authorization from the board. I suppose I should bring it up again.

So absent that, sometimes doing nothing, or at least not much is the best thing.  All I know is that I have been watching this water flow for a ten years, trying with limited success to stop the dirt from running off.  Now the lackadaisical response to the fallen leaves have done the job for me.
December 11, 2009
So Far, So Good on the Climate Change Negotiations
The Obama Administration is exceeding our expectations at Copenhagen. Todd Stern, our chief negotiator has adroitly thrown cold water on developing county blackmail while our delegation makes the joyous noise with environmentalist. It has been an excellent balance of realism and hype that might actually lead to a workable agreement instead of the usual crap that comes out of these big convocations. So far, so good, let's keep it up.
Calling their bluffs
Stern has called the climate community's bluff, as we hoped he would. No more can plaintive voiced people get away with just saying how bad we are, how terrible things might get and – with a tears in their eyes – say that it would all be just great if only the U.S. would do the right thing. Stern pointed out that 97% of the new emissions will come from developing nations. Unless they step up, nothing will work. A little tough love was what they needed and what they are getting. One of our most potent tools is the resort to higher authority. This is something you learn in negotiations 101, but most people hate to use it. It does our egos a lot of good if we can say that we are the final decision makers, but it is a very bad negotiating position. It allows you to get rolled and/or carried away by the tide of events. This is what evidently happened at Kyoto. Otherwise it is hard to explain how our negotiators agreed to such a monumentally stupid agreement.
The negotiator proposes; the Senate disposes
How does the resort to higher authority work in this case? Our negotiators know and they have let other know that no matter what kind of agreement they reach at international venues, the U.S. Senate will have something to say about it when all the dealing is done. If the agreement is too absurd, the Senate will reject it, as the unanimous Senate did with Kyoto. This is a powerful incentive for everyone to be reasonable and not allow the exhilaration of the moment overpower the longer term realities. Good guys and bad guys
There is another negotiation tactic that it seems that the Obama administration is using. That is the one we all recognize from watching cop shows – good guy/bad guy or good cop/bad cop. It is closely related to the higher authority gambit in that President Obama gets to be the good guy while the vaguely identified opposition plays the villain role. The incentive is to give something to the good guy so as to avoid rewarding or even having to deal with the bad guy. George Bush could never have pulled this off. He would have been undercut by the U.S. environmental community and, anyway, he didn't have the persona to pull it off. Obama can. We all hope that he can swoop in at the end and scoop up some of the marbles that we otherwise would have lost. America holds a strong hand this time
Addressing climate change is a big job and it will cost trillions of dollars. We agree on the goal, but there are ways to do it that are more and less effective; more or less costly and more or less costly particularly to the U.S. That is what these negotiations are about. And this is something that those most loudly braying about the need to "save the planet" are often trying to obscure.
U.S. CO2 emissions relative to the rest of the world have been dropping for a long time. The blame America idea is just a non-starter. America is a big part of any solution, but if others, especially developing countries, don't step up the problem cannot be solved. Beyond that, everybody knows that the U.S. can more easily adapt to climate change than many others. Another bluff that many developing countries are running goes something like "give us money or we will drown ourselves." That is another bluff we can call.
America has more advantages this time than ever before. We should be fair but also tough. We cannot afford free riders. As we wrote elsewhere, the U.S. is now in a better position in relation to many others. We can plausibly promise real reduction in CO2 emissions, but it is very important how we sell reductions. You don't give things away in negotiations because you get no credit in the international community if you just do the right thing w/o making a big deal about it. Multilateral negotiations are a kind of kabuki play. You have to scream and grimace at the proper times or else nobody pays attention. You have to call attention and claim credit for good things that just happen. You know that you will be blamed for the bad things. Climate change talks should be about … climate change
We have to insist that the climate change programs remain about climate change. They cannot be sidetracked into a general push for development aid or some kinds of transfer payments from the rich countries to the poor ones. Many national leaders and NGOs come to climate change talks with the hope of hijacking them precisely in this direction. The threat of climate change has given them a potent weapon, which they are not eager to relinquish. That is why they often reject sensible solutions such as nuclear power or want to concentrate all their efforts on the developed world industries. Physics doesn't distinguish among emissions
So let's keep on task. The job is to mitigate climate change and adapt to what we cannot mitigate. This is a practical problem involving lots of physics and physical infrastructure. The Chinese Ambassador disingenuously called for soul searching when talking about climate. If he can find a place to sequester carbon there, let him search his own soul. Otherwise the world's biggest emitter of CO2 might just want to do something practical. You have to be willing to walk away
Finally, the most powerful tool of negotiators is the ability to walk away from a bad deal. Developed countries like the U.S. accounted for most of the historical emissions, but they emit less than half of the GHG today and this percentage will drop now and forever. If current trends continue, China alone will emit more CO2 in the next thirty years than the U.S. did since 1776. China's emissions alone more than swamps any "historical damage" done by us.
Nevertheless, many big and future developing polluters have a big incentive to play the victims. We already hear the silly rhetoric and attempts to guilt us into doing something stupid. (The Sudanese, you recall the guys who brought us the genocide in Darfur, had the guts to ask us to remember the children. Well, we do.) We should not let the idea that we MUST make a deal stand in the way of making a good deal. If many in the developing world have their way, we will send a lot of money with few or no strings attached to countries that historically have not managed their finances well. They will talk a lot about reducing CO2, but not do very much about it. In fact, the big buck infusion will enable them to pollute even more. This deal is worse than no deal and everybody has to understand that we will walk away than accept it.
Climate change is an urgent problem and we need to find solutions. But rushing to do the WRONG thing will just make the whole thing worse. It is like the dishonest salesman who wants you to sign w/o reading the agreement. He tells you that if you don't act right now, it will be too late. The deal will disappear. It is usually better to let a deal like that disappear. But the funny thing about negations is that if they know you are willing to walk away, the other side usually gets a lot more reasonable. The ABILITY to walk away usually means you don't have to. The world will get a more effective climate deal if the U.S. is tough and realistic. Let's not let another Kyoto mess things up for another decade.

Below are some sources you might want to consult on the climate debate. AEI
BrookingsEconomist Special Report on the Carbon Economy
Pew Climate Change Center WSJ on Climate Debate
December 10, 2009
Sick, Tired, Sick & Tired or Just Plain Lazy
Yesterday I did something I have never done before:  I left work early because I felt sick.   In retrospect and with the benefit of knowing how I feel today, I know it was nothing much.  I was just really tired and my body ached all over.  I now believe I just didn't get enough sleep and a pulled muscle in my back was radiating discomfort through the rest of my body. It is better today.  I usually would have just ignored it, but I guess I succumbed to all that hysteria about the H1N1 flu, which BTW doesn't seem as big a deal as we all feared.
Sick of sickness
I felt a little bad about bugging out yesterday and on the way to work this morning, I thought about sick leave.   I have a lot of it saved up.  In the USG, you earn four hours of sick leave every pay period (two weeks) & can carry your sick leave balance over to the next year.   I have saved more than 2300 hours, which comes to about a year and a half of work time when you count in normal holidays.   I always thought of it as a kind of disability insurance policy.   Who needs AFLAC when you have SL?   I am lucky that I just don't get sick very often, but I also don't allow little discomforts to keep me home.  For example, I would not normally have taken sick leave for something like yesterday. Life is full of little discomforts; most don't matter.
The whole concept of sick leave is interesting, when you think of it.  We get annual leave (vacation) and then we get sick leave.   We are not supposed to mix them, but a lot of people do.  A significant number of people use every hour of both each year.  Sometimes I suppose they really are sick; sometimes not and sometimes I think the definition of "sick" is stretched past normal credulity.  
Sick on Mondays and Fridays
As a manager, I noticed that sickness tended to happen more often on Monday's and Fridays and some people were consistently sick whenever some sort of difficult assignment was on the horizon. It is a tough call sometimes.   Ostensibly you have to respect that people get sick.But you are very often faced with a simple choice.  Either the person is there or not.If they are not there, they cannot work.Whether the reason is good or bad, not showing up takes away a chance to succeed.   Since success tends to build on itself, if you don't show up a lot you will have a lot more trouble succeeding.  
All success depends first on just showing up
Is that fair?  The chronically absent tend to think not, but what can you do?   I did an informal poll at my table during one my senior training last year.  It is hard to get into the SFS, so getting there is a measure of success. There were six people at my table and we all had thousands of hours of unused sick leave.   It was not a statistically valid sample but I think it makes sense.   Of course the causality is unclear.Do successful people get sick less often?  Are they sick less often because they are successful?  Do they just not abuse sick leave as much?   Correlation is not causality, but you can learn lessons from it nevertheless. 
I earn more than two weeks of sick leave a year, which I don't use, so that means that I work two weeks more than I would if I took off.  In the course of my career, I have worked about a year and a half longer than someone who took off all the sick days allowed.  It stands to reason that additional time on task will probably yield better results.
I don't believe that you should come to work when you have some contagious sickness and I don't.  But that just doesn't account for very much time. My general rule is to assume I am doing something I want to do, a vacation.  Would I let whatever I am feeling stop me from doing that?  If the answer is no, I should also go to work.
My parents taught me good habits.I don't remember my father EVER taking a sick day. I suppose he did, but not often enough that you would notice. When I said I was sick he would tell me some stories about the depression or the war. He also told a story about his cousin, Eddy Wysoki, who evidently drank a whole bottle of rubbing alcohol. That made him really sick. I guess ordinary sickness wasn't invented yet back then. My mother let me stay home from school any time I claimed I was sick.  The catch was that I had to stay in my room and rest on the assumption that if I was sick enough to stay home, I was too sick to play.  I still recall an instance when I was legitimately sick in the morning, but recovered.  Nevertheless, I couldn't play with my friends outside after school. I thought it was unjust, but it was a lesson I obviously still remember.
How to handle too much sick leave
The problem with accumulating sick leave is that it goes to waste when you leave the government service.  That is why I was happy to hear that the Congress has decided to tack ½ of the total sick leave hours onto our time in work for retirement purposes. That means that I will have an extra six months of credible Federal Service when I retire.  If you retire after 2014, you will get the whole time credited.  It makes sense, since as I wrote above I did indeed work that extra year. The USG was having some trouble with absenteeism.  
There is the incentive to just be sick.  I mean, who doesn't feel sleepy in the morning? Could it be sickness?  Maybe we better sleep a little more to make sure.   Feeling a little winded after climbing some stairs?  Maybe better go home and rest.  When you have a year's worth of sick leave that you will just forfeit and you plan to work for less than a year, such things begin to make sense.
I remembered a stanza from the Book of the Tao. It really doesn't make much sense, but it kind of applies here.
Tao Te Ching – Lao Tzu – chapter 71
Knowing ignorance is strength.
Ignoring knowledge is sickness.
If one is sick of sickness, then one is not sick.
The sage is not sick because he is sick of sickness.
Therefore he is not sick.
December 08, 2009
Negotiation 101 and Climate Change
"When you say you agree to a thing in principle you mean that you have not the slightest intention of carrying it out in practice."* I have limited confidence in the efficacy of big global agreements, but I understand the usefulness of participating and we hope our team will be very forthcoming and aggressive in the COP 15 climate talks.
Forget KyotoThe Clinton Administration never had any intension of implementing Kyoto. The Senate rejected it 95-0 before even being asked to ratify it. This was a unanimously bipartisan rejection of the climate treaty.  Kyoto was dead on arrival, as the saying goes and it  was indeed a seriously flawed agreement but Clinton was clever. He understood the dynamics of the public relations around climate change.  Nobody really intended to carry out the terms of the treaty beyond the extent to which it was convenient. Most of the climate lobby was perfectly content if the U.S. went along rhetorically.  Most of the major players were going along with the mendacious program.   Bush didn't understand how to play that deceptive game well enough and openly rejected the agreement  & the U.S. got eight years of international crap as a result.
Take credit for what will happen anyway
Kyoto was meaningless. Developing countries got a free ride on the misplaced guilt of the more productive and hence more energy consuming nations (energy consumption is closely related to output). The former Soviet Empire was in the process of shutting down the horribly polluting – and without strong state protection – unprofitable industries built up during the benighted communist era.  Countries in both these camps knew that nothing much would be asked of them and they might even be able to make a little money selling carbon they would not have produced anyway. The Russians were in the now even more enviable position of having been so horribly dirty and inefficient that any approach to normal would be rewarded with unearned credits and cash.

BTW – Russian carbon credits are one of the reasons ostensible carbon reductions in Europe were so cheap and ineffective.The Russians are now lining up to milk what they can out of Copenhagen.

Our European friends also came to the game with a few aces up their sleeves and a lot reductions already cooked into the pie when they signed on to Kyoto. In the British Midlands, they were in the process of converting from dirty coal to much cleaner and less carbon intensive natural gas. The Germans had recently acquired the outdated industry of communist-East Germany.  They were shutting down these inefficient and very polluting industries anyway.  It was sort of like a cash for clunker industries program. 
The fall of communism in Eastern Europe was a significant ecological benefit all around. Just bringing industries up to non-communist standards resulted in a big reduction of all sorts of pollution. Beyond all that, they understood that Europe's generally slower rate of economic growth would slow demand for new uses of carbon.
The U.S., in contrast, didn't have any big shutdowns on the way and our economy was growing about twice as fast as those in continental Europe which would mean a growing need for energy. 
Progress is on the way; revel in it and don't sell it cheap
We are now in a better position in relation to many others.   We can plausibly promise real reduction in CO2 emissions, but it is very important how we sell reductions.  You don't give things away in negotiations because you get no credit in the international community if you just do the right thing w/o making a big deal about it.  Multilateral negotiations are a kind of kabuki play.  You have to scream and grimace at the proper times or else nobody pays attention. You have to call attention and claim credit for good things that just happen.  You know that you will be blamed for the bad things. 
The free market is remarkably adaptive. When the price of gas rose in 2006, Americans used less energy and emissions of CO2 dropped. This is the only time this happened in a major country during a time of robust economic growth. Did we get any credit?  Did anybody even notice?  I had to look hard to find it in the media.  WITHOUT the hyperbolic rhetoric you don't even get credit for what you REALLY do. WITH rhetoric you can even get credit for things that just happen even if you do nothing.  It takes a little dose of hypocrisy to make the world go around.
Now we're cooking with gas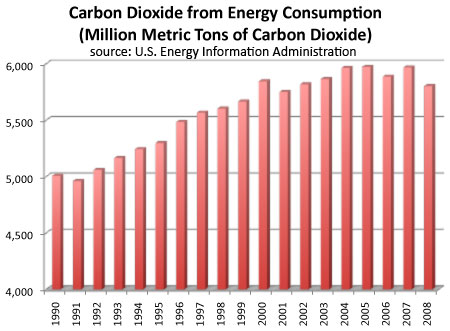 Source
It gets better.  We will soon be able to reduce carbon emissions w/o working up too much of a sweat. Technological advances in only the last few years have made available vast amounts of natural gas within the U.S. Our recoverable reserves have gone up by 39% in the last two years alone and gas is getting very cheap. As the economics of gas improve, we will switch from coal and oil, which emit much more CO2, to gas in many situations. This will reduce our emissions.
Natural gas is also abundant in areas of the U.S. much in need of jobs and investments.
There is an even better good news story. Last year the U.S. displaced Germany as the world's largest producer of wind energy. Wind is still no big deal as a % of energy consumption, but the trend is continuing and abundant cheap natural gas can play a role. Wind is unreliable. You have to have a back up capacity. Gas is perfect for this. Unlike a coal plant, a gas generator can be easily turned on and off. On windy days, we would get electricity from wind. When the wind wasn't blowing, gas would fire up to fill the demand.
Other alternatives plus better quality nuclear power is also coming on line. Match this with the generally slower economic growth we expect to suffer during the next couple of years (there is a silver lining to every black cloud) and you see that U.S. emission growth will slow and we may even have some actual drops. If you look at the chart nearby, you will see that the trend started down in 2006. We expect another huge drop of 5% in 2009.  Notice from the chart that our emissions were a bit lower in 2008 than they were in 2000, w/o the benefit of Kyoto, BTW.
That means we can promise AND the United States can deliver. Delivering is important, but it is the promising that is the key to UN success. You need a lot of sound and fury in the international climate game. If we just deliver, we get no credit (cf. carbon reduction under GW Bush).  In the international negotiating arena, especially international public opinion, what you say and how loudly & passionately you say it is at least as important as what you do.
We don't have to take it anymore
The U.S. also needs to be in a stronger "moral" position to resist unreasonable demands by less developed countries. In fact, we can turn the tables on them. They always said, or at least implied that they were waiting for us, that if we (the U.S.) reduce our emissions they would do likewise.  We are now holding the cards we need to call their bluff. We doubt  most others will actually come through, but it will at least take some of the wind out of their sails when they make unreasonable demands on us. With our emissions dropping and those from places like China (the world's largest CO2 emitter since 2006) and other developing countries on the rise, we can throw some of the stink in the other direction for a change.
The U.S. will be a leader in the effective use to climate change technologies
This is potentially a real game changer. With President Obama's smooth rhetoric and proven ability to promise "change we can believe in" hitched to the real potential of the American market to take advantage of favorable energy trends and the unexpected bonanza of natural gas in the short term, we can cram a sock in the anti-American rhetoric on this topic. Yes we can.
Go boldly; no need to apologize
So let's play hardball by "playing nice." No need to apologize or send too much money to contribute to kleopocracies in developing some countries who use the poverty of their people and bad weather as bargaining chips. Instead, shift our weight and do a little international style jujitsu. We have little to lose, since we are on track to succeed anyway in reducing our emissions relative to the rest of the world, if we use the cheap natural gas we have found and ride the wave of innovation already coming our way.  But none of it will count unless we make a big deal of promising.  Posturing, promises & procrastination, that is how they roll at these kinds of international conferences. The rules of the game do not require and do not always even encourage actual success anyway, but we can both talk and do in this case.  
Let's do it and let's also be seen to be doing it.  It will benefit neither the environment nor us to allow another Kyoto to be hung around our necks.  But with the proper nudge, maybe something can actually get done … even really about the environment maybe.
* The saying is attributed to Otto Von Bismarck

December 07, 2009
False Economy
We will be spending less on TARP than we thought.   It is estimated that TARP will end up costing the taxpayers $200 billion less than was first thought, as financial institutions have recovered faster than anticipated and are paying the money back faster.    TARP turned out to be a sound investment.  Let's keep it that way by not throwing away the dividends we didn't really get.
Unfortunately many in our great nation have fallen for a fallacy about money and they are being encouraged in their error by dishonest politicians trying to expand the dependency of people on government largess.  
Trick accounting bankrupts people; don't let government do it
The fallacy involved is thinking that money you saved by not spending it is necessarily money you have in hand.   It is a common fallacy and is a contributing factor to making individuals and families poor.  It is the man who buys a car he cannot afford because he got a good deal.   Instead of understanding that he to borrow $30,000, instead he counts that he has "saved" $10,000 because it "would have cost" more.   His initial error is compounded when – flush with his $10,000 "windfall savings" – he continues to spend money he doesn't have. 
 This kind of systematic error is part of prospect theory and behavioral economics. Cass Sunstein , President Obama's regulation advisor, has written an excellent book on these nudges.  There is a lot of thinking going on about this.  One would hope that we will not be so easily fooled this time.
C&J learned this lesson when as a young couple they planned a vacation they couldn't afford.  We were smart enough to understand it was too much money, but then fell into the phantom money saved trap by going on a cheaper vacation that we still couldn't afford, secure in the false knowledge that we were being virtuous by saving money.  
A penny saved is not a penny earned if you just blow it
It is even worse with borrowed money and since we are running the biggest deficits in human history, ALL the money we are talking about is borrowed money.    Saving $200 billion just means we have to borrow $200 billion less.  It doesn't mean we have found $200 billion to spend.
We even have heard some really stupid calls to give the money "back" to the people.   What does this even mean?    The government would borrow the money.   Isn't this how we got into the financial mess in the first place?  Too many people were borrowing money and giving to themselves w/o remembering or w/o caring that borrowed money is not free money.
Let's not let get fooled again
Maybe $200 billion doesn't sound like much when you already have a $1.4 TRILLION deficit, but it is real money and it is not FOUND money.  Politicians may indeed decide to BORROW and spend more, but let's not be deceived about what they are doing or let them bribe us with our own money.  
A politician who uses phrases like "TARP funds have been freed up" or "we can spend the $200 billion we 'saved'" is lying to us and using an easily identified judgment flaw to try to trick us.  Surely we are smarter than that.   Didn't the last couple years teach us anything about living on the credit card?
December 06, 2009
Self-Help for the Autodidact
I started listening to audio-books back in 1985.My audio-book consumption started about the time the format became widely useful.I moved from cassettes through CDs and to I-pods and listened to thousands of books I would not have read.Audio-books make long drives productive and often even enjoyable.  

There are advantages and disadvantages to any medium.A big disadvantage to the audio format is that it is hard to go back and forth, so if you miss something it tends to stay missed.  You cannot really study, as you can with a book.Audio also reinforces or enables one of my intellectual weaknesses.  I have a decent memory for data but not for sources.  I tend to mix knowledge promiscuously.   It is especially bad on I-pods.  I sometimes just launch a book w/o even listening to the title or author.  I could never write a research book because I could never footnote.   
On the other hand, I tend to listen to more parts of a book.   With a standard book I often skim through or skip parts I don't like.  I don't bother doing that with an audio-book.   Sometimes I buy the audio version of a book I have read or buy the book that goes with an audio version.  That gives the best of both worlds, but it is only worth doing for something really worth knowing.
One of the books that influenced me the most was "The Seven Habits of Highly Effective People."I know some people are sensitive about admitting the read self-help books.Not me.I needed the help and that was a good book for it.All of it is common sense but not commonly known or followed.I read the book when it first came out in 1989 and then I got the audio version.I don't think it would have made such an impression on my w/o the audio version.
For a couple of years I was a regular customer of Blackstone Audio Books.  They were unabridged rental books.  I drove around Southern Poland listening to the books.  I did a series of lectures in Bielsko, which was around a two hour drive from Krakow.  I made the drive once a week. I remember listening to an audio-book call "Novus Ordo Seclorum" about the Constitutional debates.  James Madison & Alexander Hamilton were prominently featured. It was funny that when I went to visit James Madison's house I kept on having memories of Poland.  I also thought of driving in Poland while listening to another audio-book "Hamilton" by Ron Chernov.  These things happened ten years after.  My memory was cross referencing.
Lately I have been buying courses from "the Teaching Company."  They are college lectures, each about 45 minutes long.   This is ideal for the Metro trip.  But you don't even have to buy lectures sometimes.  Lots of universities are putting courses on line for free.  I just downloaded Donald Kagan's history of ancient Greece.   It is mostly review, so I can just let it play as I walk along noisy streets.  The only problem with the free college lectures is that they tend to be actual live lectures.  They are not delivered with the same alacrity of a narrator concentrating on making a recording.
The narrator style and voice make a big difference.There are some narrators I recognize.For example, I listened to a couple of books by Simon Winchester.  He writes a kind of science-based history.I liked "Krakatoa" so I got another of his books about the San Francisco earthquake of 1905.  I was pleased to have the same narrator.  They guy had a nice British accent and good voice quality.  I had a less happy experience with Thomas Cahill.  Actually it was good three out of four times.  He had some excellent books, such as "How the Irish Saved Civilization," "Desire of the Everlasting Hills" (re early Christianity) Sailing the Wine Dark Seas" (re ancient Greeks) and "Gift of the Jews."  The last of the group had a female narrator.   Her pitch was wrong.   It was very hard to hear and understand her with traffic or metro noise in the background.  Narrators need lower and stronger voices.   The problem was that "Gift of the Jews" was a good book, better than "Sailing the Wine Dark Seas," but the narrator got in the way.
An unwelcome development from my point of view is the increase in video.You cannot use video while driving and it generally requires full attention, which I often do not want to give.Many of the courses from the Teaching Company are available only in video format. 
Audio-books have given me the equivalent of separate college educations.  I am sure I spent more total time listening to audio-books than I spent in college and I bet I have spent more money on them over the years.  It was worth it.
December 05, 2009
Forestry Investment
This is Virginia.   We usually don't get snow this early in the year, but this has been a cool and wet year and maybe winter will come early.  The pictures are taken from our back and front doors.   The snow is falling on some trees that still have not finished shedding their leaves.
Confirmation Bias?

Forbes Magazine has a good article about forestry as an investment called Buying Woodlands for Fun and Profit.  I cannot believe how lucky I was to get into forestry and I keep on getting confirmation of that.I admit that I went into it backwards.  I have always loved trees and wanted to have something to do with forestry.Since we are not rich enough to own such a thing as a luxury, I had to figure out a way to make it an investment, and I think I succeeded.
I sometimes worry that I am victim of confirmation bias, i.e. I notice the information that confirms what I already believe and just overlook or ignore contrary arguments.  I suppose the downsides are the large initial investments & long term commitment.   It also helps to know something about trees.  I got good deals on both my forest parcels.It is not only luck.  I looked at dozens of properties and I could envision what the land would look like in a few years.   This is now the fifth year we have owned the first piece of land.  It is developing about as I anticipated, only a little better.  
Everybody has to save for retirement, especially these days.  Forestry is a good option.  
Given the ways the deficit is shooting faster than it has since World War II, I don't think anybody can count on Social Security and other investments will be devalued by the inflation that will have to come in the wake of our enormous spending binge, not to mention paying for health care and the raids on the trust funds.  Forestry is a tangible asset. It will rise with inflation.But it is much more than an ordinary investment. 

It is just a joy to walk acrossMY land and I believe that I am doing something that has lasting value.I just don't get that same feeling from mutual funds in an IRA.
The joy of forest ownership
Owning a forest has changed my thinking on forestry and changed my life.I understand a lot more about the moral imperative to make forestry work.  It is much more work and better for the world to grow and sustainably harvest trees than it is to set up a "sanctuary" or "preserve."I feel a little like I am swimming against the tide of environmental perceptions.  And when I think back to how I used to think, I understand the misconception.I just have to make it my business to explain how it really is.
Read the article if you are interested in forestry or owning a forest.  If not, you probably have not gotten this far down the post anyway.   It is not something everybody wants or can do, but it is easier than most people think. You just have to really want to do it.It requires a commitment and you have to recognize the terms.You won't get your money back quickly and your fortunes are controlled by the rhythms of nature.You have to think of it as a long-term retirement asset, not a quick turnaround investment.It literally grows slowly over time.  But it is a great thing if you can wait for it.
I understand that the chances are small that I will live long enough to make the final harvest, but that is okay.  We all plant trees for the next generation as the last generation did for us.  Life is one long chain letter.
December 04, 2009
We Are All Sinners
The media is wallowing in the Tiger Woods affair. The idea seems to be that he deserves special opprobrium because he seemed so good before. Schadenfreuden always take pleasure in anybody's trouble, but it goes deeper than that. Many people seem almost to resent goodness as an affront to their own imperfections and they think they can pull themselves up by pulling others down. 
One of their most effective tools of character destruction is setting an impossibly high standard.   When nobody can reach the standard, the losers can say that we are all equal – equally craven.  
Two types of standards are useless: stupidly low standards that include virtually everything and impossibly high standards that are almost impossible to attain.   Mark Phelps is a better swimmer than I am, but if we make the test the ability to swim 50 yards in less than five minutes, we both equally qualified as swimmers.   On the other hand, if we make the test the capacity to swim from California to Hawaii, we are both equally unqualified as swimmers.  
It is fairly easy to identify and argue against absurdly low standards. It is harder to get at the absurdly high ones.   Proponents can accuse you of being against excellence or not caring about improvement.   The fact that nobody can achieve the standard just proves that we have a long way to go before we get where we should be.   The challenge is that these arguments can be valid to improve motivation and performance. It is just that they are easily misused.
So we just have to recognize that everybody is a sinner; everybody makes mistakes; everybody should strive to do better and some do better than others, i.e. we are not all equally good or bad. I told the kids that saying you are sorry means you will not do it again. That means you have to do better and if you can do better it implies that not everything is the same.  Just because we cannot achieve perfection doesn't mean we have the option of slouching into decadence. Just because you cannot do everything doesn't mean you have to do nothing.
I take no pleasure in Tiger Wood's fall. It is none of my business.  I do not have the "right to know" and neither do the hack-journalists covering the affair. The fact that another human is not perfect doesn't absolve any of us of the responsibility to be better.  It is a challenge we face every day and it is a challenge that nobody can face for us.  We should be judged on how well we fight the good fight, aware that we will never achieve the ultimate success.  
People who delight in the misfortunes of others are assholes, but I feel a bit sorry for them.  How bad must your life be if your outlook can be brightened by someone else's sorrow?
December 03, 2009
The Eastern Empire
Alex and I went to a lecture at the Smithsonian about the Byzantine Empire by Lars Brownworth.  It was a good lecture and the guy had very good humor timing but he also made some excellent points.  
One of the key points is how the Byzantines have been disrespected for centuries.   Even the name "Byzantine" is pejorative.  The Byzantines referred to themselves as Romans, which made sense since they were indeed the heirs to the Roman Empire in an unbroken line of history.  Some of it is the responsibly of one man – Edward Gibbon, whose monumental book "the Decline and Fall of the Roman Empire" has set the concept of Rome for more than 200 years.   But in many ways he was merely reflecting a general Western prejudice against the East.
It seems to make sense that we could call the end of the Roman Empire when the city of Rome fell, but this is not the case.  By the time the actual city of Rome fell to Barbarians in 476 it had no longer really been the capital of the Empire for some times.  The Western Empire was ruled from the more defensible Ravenna.   The more important Eastern part of the Empire was ruled from Constantinople.  By that time also the Roman Empire had occupied the Mediterranean world for more than 600 years.  It had become a single cultural entity a lot like the U.S. in North America.  California or Nebraska is not less American than Virginia or Massachusetts because. 
Take that back in terms of our own history and we are back to 1409, almost a century before the European discovery of America.   Henry V had not yet become king of England and – BTW – the Eastern Roman Empire was still in existence.   That was a long time ago, so you can imagine that a citizen of the Roman Empire had no real concept of anything before Rome, or maybe had about the same feeling as we would about Henry IV (for most people i.e. none). 
Anyway it was one cultural region and the Mediterranean united the region, not divided it.   North Africa was as much part of this Roman world as Italy.   We forget about that today because we think in terms of East and West and we think of the Muslims in the Middle East as natural and native. BTW, many mosques are pattered after Byzantine churches (especially Hagia Sophia, that you see in the picture) and the Muslim world owes a lot to the Eastern Roman Empire in general, as we do.
If you read other parts of my blog, you know I am a fan of the great empire of Rome.   The Byzantines preserved and transmitted the ancient heritage to us.  Byzantine texts and scholars helped spark the renaissance.  We should pay more attention to their history.
I think it is great that Smithsonian sponsors these lectures and that hundreds of people come to listen to them.
December 01, 2009
Alex, College & Community College
America has most of the world's top universities, but what really stands out about our country is the depth and breadth of opportunity on offer.   You don't have to be in a big city or an important capital to find a first-class education and you don't even have to be in college to get started.  Community colleges are increasingly filling roles as not only technical trainers but also launching pads for academic careers.
There was a good article about it in the Washington Post.
I am biased.  Alex graduated from Northern Virginia Community College and will start as a junior at James Madison University next month.  But that also gives me some special insights into the subject.  I won't say Alex is typical of all students, but let me tell a little about college and community college with him in mind.
Alex didn't have a plan when he graduated from HS.He had not been an enthusiastic student and his mother and I made the hard decision NOT to push him right into college.I made that mistake myself long ago. All I did was drink beer (the drinking age was eighteen back then) and my 1.60 GPA in my first year at UWSP continues to haunt me to this day.
Alex avoided that.  After HS, he went to work at the local Multiplex.  It was a really crappy job, but he soon did better, moving to Home Depot, which treats its employees well. He has continued to work there and won the respect of his bosses and co-workers.This experience will serve him well in future.  It disturbs me that many college students have never actually done any real work.

After a few months, he decided to start community college while continuing to work part time.   Community college makes the transition from work to study easy.  Tuition is cheap and students can take a few courses at a time.  Alex eased in and started to get good grades.
Not everybody is ready to go to college at eighteen. I wasn't, neither was Alex. I think this is especially true of boys.   They tend to be less interested in academics and a little more rambunctious.They might need a little more time.  It is certainly out of style to say, "Boys will be boys" and it is not true of all boys, but it is indeed generally true.  They get clobbered when they are pushed too soon into some situations and sometimes they don't recover.  Alex matured and after passage of time, he was ready to do well.  To everything there is a season and a time for every purpose under heaven." The old wisdom makes sense.  Sometimes waiting is best, but it hard.
No size fits all. But I think we would be well served to rethink college entrance in general.  I don't think it is possible to make a good admissions decisions when a kid is eighteen years old. An eighteen-year-old is largely the product of his/her parents.  A couple years later you get a better look at the adult.  AND the kids make better choices.A couple years make a big difference at this time.
It might be better to start most kids in community colleges and then let them move on to university as their demonstrated talents and now better informed choices indicate.    
Alex also saved me the big bucks.  Community college is about half the cost of State schools and Alex lived at home. 
Now let me shift to the other side.I am glad that Alex is going away to school.  I think it is important that kids NOT live at home the whole time.  They learn a lot from living with other young people and being away from home.And as I wrote a few paragraphs above, one size does not fit all.Mariza and Espen went right to college after HS and Mariza was only seventeen (she skipped second grade).
So I am glad that we have options. America is the land of opportunity because it is also the land of second and third chances.  There are many roads to success and lots of time to take them. 
Everything Has a Price
People say that like it is a bad thing.   In fact, the ability to put a price on most things is the basis of most of our prosperity.   It also reduces or even eliminates many conflicts and just makes everything work smoother. A lot of blood has been shed over "priceless" things, but any problem you can buy your way out of is not longer a problem; it is just an expense.
People have a strange way of disparaging thing they want the most and talk obliquely about them.   For example, when somebody says, "you cannot put a price on that" he usually means that the price offered is too low.  When he says, "Nobody should have to pay for that" he usually means that he wants somebody else to pay for it for him.  
Something for Nothing
Everybody likes to get something for nothing (or at least for not too much.)  We wince when we think about the venality of some of our interactions, but it is just part of human nature.   Actually, it is part of nature in general.   Animals implicitly calculate the amount of effort expended for a particular payoff.   Lions go after the zebras or wildebeests that are easiest to catch and they chase their prey only so far.  After that, it is not worth the effort.   And the king of beasts is happiest when he can find a fresh carcass that he doesn't have to chase at all, i.e. get something for nothing. That's nature.
What is it Worth?
The most important part of a price is the information it contains.  The price tells you whether it is worth the effort.   It also tells you how much effort others would put in making or getting this thing.  It allows you to compare and make choices about disparate things and forms a judgment on the relative effectiveness of various producers.  All this is Econ 101, but it bears repeating since we often forgot why prices are good.
BTW – I have been watching a good show called "Pawn Stars." I recommend watching that when thinking about the "true price" of anything.
Price's role in conflict resolution is something we talk about less often but it is one of its most important functions.   Price can accomplish so much because it contains all that stuff mentioned in the paragraph above.   W/o price, these are things you would have to fight about.   To illustrate the role of price in conflict resolution, imagine a situation where two or more people want exactly the same thing and have determined it is priceless.   Those are the conditions where people come to blow and nations go to war.
Think of the rare heirloom from grandpa that all the grandchildren want and think is theirs by prior right.   They can all come up with endless credible arguments as to why it should be theirs.   Put a reasonable price on the thing and the conflict usually drains away, as most of the heirs decide they really didn't want it that much and/or something else is more valuable to them.
Something Beyond Price, or Just a Price Range
Of course, there are some things we really would not put a price on, but fewer than we like to admit.   I am telling the truth when I tell people that I don't want to sell my forest land, but my statement is valid only within an implicit price range.   I am not exactly sure what that range is.  I know  a price I would accept  is currently significantly more than I am likely to be offered, which I why I can make my "not selling" statements with such moral certainty.   But I think if someone offered me $1 million an acre, I would  take it.
There is joke (I think it is from Groucho Marx) that illustrates the price dilemma:  This guy asks a woman if she would sleep with him for $1 million.  After a little thought, she says she would.   He says, "How about $10?"  To which she indignantly replies, "Sir, what do you think I am?"   The guy says, "We have established what you are; now we are haggling over the price." 
You Can't Sell That
It is precisely our human "price flexibility" that makes it necessary to have some laws about things that cannot be sold.  No matter what the price, you cannot self yourself into slavery, for example.  Society does this not only because slavery is odious or even to protect the person selling, but rather defends the whole concept of freedom and takes it out of the negotiation/price world.   I think most people support this kind of limit on choice, but we need to be careful not to go far in proclaiming too many things off limits.  Things w/o a price often tend to get abused. 
I recently read a series of articles about the art world.   Art is one of those places where you have a lot of price confusion.  Much of the price is based on fashion and capricious opinion. Artists put a lot of their personality into their works and usually pompously over-value it.   And many people get positively indignant about prices that are too high, too low or anything else.   But price may be more important in the art world than in many other places.    Simply stated: price preserves both art and artists.
Price Preserves Art
One article talked about Chinese art.  Now that some Chinese have piles of money and Western currencies to burn, Chinese art has risen in value.  Some complain that it was undervalued in the past and that Western collectors were able to buy it up at a fraction of what it was worth.   This is a fairly meaningless statement, BTW, because it is worth what somebody will pay for it.   Today it is worth more.  That's it.  But there is another permutation. 
During the bad old days of Mao's Cultural Revolution, traditional Chinese art was often worse than worthless within China.   The Communists made a special effort to denigrate and destroy what they considered symbols of decadence and oppression.    Much of the Chinese art now being "repatriated" would have been lost of destroyed had it not been "plundered" by Western collectors at a time when the people on the ground didn't value it.
Think of the terrible case of the Tailban destroying those giant Buddahs, because they were an offense to their fundamental interpretation of Islam.  If the British had "plundered" them, they would still exist.
Unappreciated Ancient Civilizations
The same goes for a lot of the art of ancient Greece, Egypt and Mesopotamia.   I know this provokes strong emotions, accusations of insensitivity and even expressions of outrage, but if you look at the historical record, it was British, French and German archeologists who essentially brought the ancient world back to the places where it had been and had been forgotten.   The current inhabitants didn't know much and cared less about the world of antiquity and usually saw archeological sites merely as places to dig up valuables or convenient places to steal bricks or rocks for new construction.   
There is a legitimate dispute whether those ancient artifacts now housed in museums in Berlin, Paris, London or New York were plundered or saved.    I think it is clear that had those things not been preserved in those museums, most would have ended up lost, part of somebody's retaining wall or – at best – in some rich guy's private collection.
Anyway, it is a good thing that these things had a price and that somebody was willing to pay it. The Rosetta stone could have easily become pavement on the road to Cairo, which illustrates another benefit of price.  It tends to put things into the hands of those who want or can use them the most.  The Rosetta stone was laying around for more than two thousand years and nobody bothered to try a translation until it got into the hands of someone who cared.